COB Bachelor's Programs Achieved ETECKSA Accreditation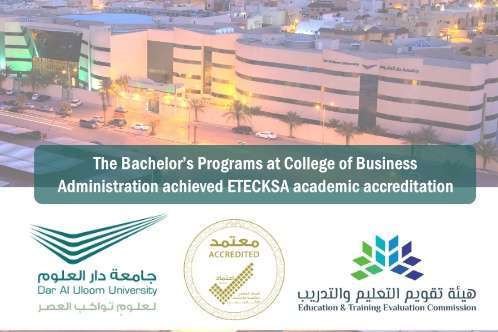 In alignment with Dar Al Uloom university's important initiative to attain national accreditation for all its programs and continued efforts to enhance graduates' quality and their readiness to participate in the labor market and as an important contribution to realizing the goals of the Kingdom's 2030 vision. Bachelor's Programs of the College of Business Administration (COB); the Human Resource Management Bachelor's Program, the Finance and Banking Bachelor's Program, and the Marketing Bachelor's Program have all attained the Education and Training Evaluation Commission ETECKSA accreditation.
The Dean of College of Business Administration, Prof. Abdulrahman Alsultan, thanked the programs' teams' members for their efforts and distinguished performance, which was reflected on programs' quality and its attainment of this qualitative national accreditation. Prof. Alsultan also expressed his thanks and appreciation to His Excellency DAU's Chairman of the Board of Trustees and His Excellency the President of the University for their continuous support for COB programs' that expedited efforts to obtain accreditation.