His Excellency Rector of the University Patronizes the College of Medicine Closing Ceremony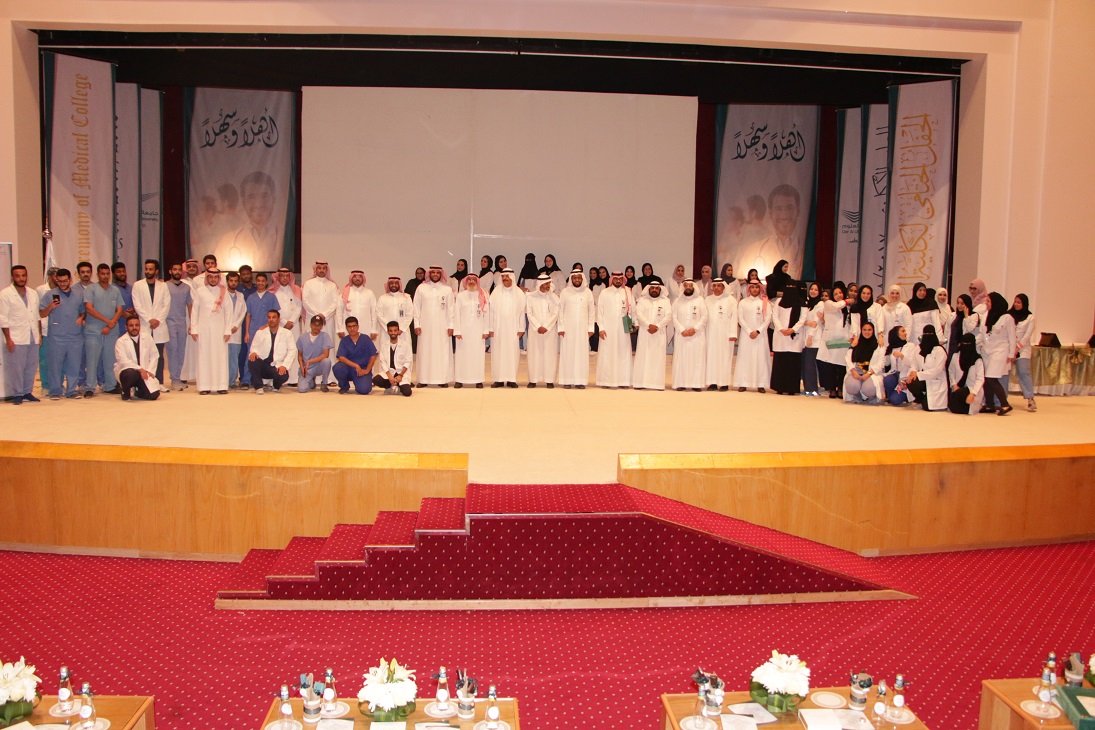 On Sunday 29th. April his Excellency Dr. Khalid bin Abdulrahman Al-Hammoudi, Rector of the University of DarAl Uloom, patronized the closing ceremony of the College of Medicine activities at the university's theater. The ceremony was attended by university vice rectors, college deans, faculty members and students.
The ceremony began with verses from the Holy Quran, followed by a speech by the student Jumana Bint Muammar, President of the college's Student Council, in which she stressed the importance of patience in learning, patience after graduation and at work. She also emphasized the importance of having a sense of responsibility and realizing the importance of work performed by the doctor.
Dr. Fahd Bin Abdullah Al Zamil, Vice Rector for Health Specialties, thanked the University's administration and His Excellency the Executive Director for the great attention the College has received, which has helped the college with God's help in successfully pursuing its goals and achieving objectives.
Dr. Sami Al-Nassar, the Dean of the College, hailed the achievements of the College during the current academic year, noting that student activities during the current academic year have been very honorable. He expressed happiness in the successful creation of a stimulating learning environment for students and faculty members.
Dr. Tahani Bint Nasser Al Tamimi, Vice Dean for Student Affairs and the supervisor of female student activities, thanked the Deanship of the College for its continuous support for student activities. She also thanked the students for their efforts in making the academic year a success.
The ceremony included a film showing the efforts made at the college, its accomplishments and student activities during the academic year. The film was produced by the student Mousa Mohammad Akour.
At the end of the ceremony, His Excellency Dr. Al-Hammoudi honored the outstanding students, contributors to scientific research, leaders of student groups, faculty members who have been promoted, the doctors of the Prince Mohammed bin Abdulaziz Hospital, the College of Medicine administration and the university's other supporting departments.  A commemorative photo was then taken of the college's staff with his Excellency.