Interior Design students in Healthcare Design Studio course were on two field trips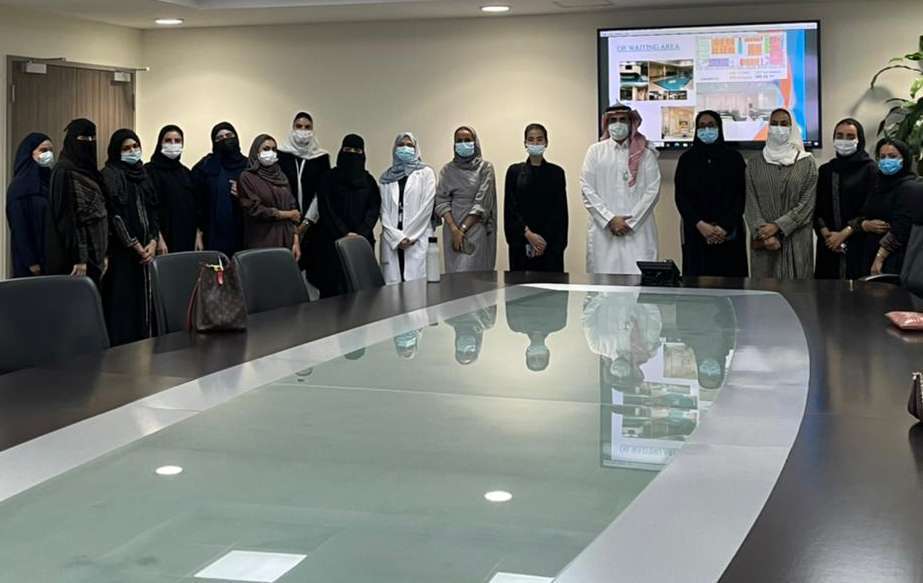 One was to Riyadh Hospital on King Abdullah Road at Almuggarrast neighborhood. Another was to King Faisal Hospital on Makkah Almukarramah Road at Almoathar neighborhood.These trips were under the supervision of the course teacher and work team comprised of Pros. Arwa Sayyed, Sheikhah Alrashid, Norah Alkhriji, and Sara Mohamed.
They met Eng. Abdulrahman Altuaimi, Project Manager. The trip started at the Main Hall of the Hospital then moved to the Anesthesia Department and different types of rooms and suites.Students got to know the conditions of Saudi Central Board For Accreditation Of Healthcare Institutions (CBAHI).Then they moved to the remaining parts of the hospital including operation rooms,Emergency Room, exam room and different types of Intensive Care Units.Since the hospital is under construction, students were able get familiar with materials used and required treatments for every department.The trip then concluded with a visit to the Paramedics Department.
The second trip was to King Faisal Hospital.Eng. Hadeel Mohamed Alqusaibi from Interior Design Department, Prof. Sahar Mohamed Luhaida, Public Relations Coordinator, and Dr. Ahmed Saleh Alamri, Head of Engineering Design Department, were at the reception. The trip started at the Convention Hall in the Engineering Department. Students gave a presentation on the developments and recent designs of the hospital. Then they moved to the Main Hall, staff area, VIP area, outpatient clinics, Pharmacy,Cardiology Department and Cancer Treatment Center.The trip then ended at a the Anesthesia Department.
These two trips came as a result of Interior Design Department plan to connectHealthcare Design Studio course learning outcomes with community service. Healthcare Design Studio Course students gave interior design suggestions for some
unfinished areas at Riyadh Hospital affiliated with Dar Al Uloom University and King Faisal Hospital.
There was an agreement with the Engineering Department at King Faisal Specialized Hospital to have a collaboration agreement to train students and give them a chance to volunteer work. This work includes redesigning some of the unfinished areas at the hospital.