"Engineering" and "Expand" Sign a Collaboration Agreement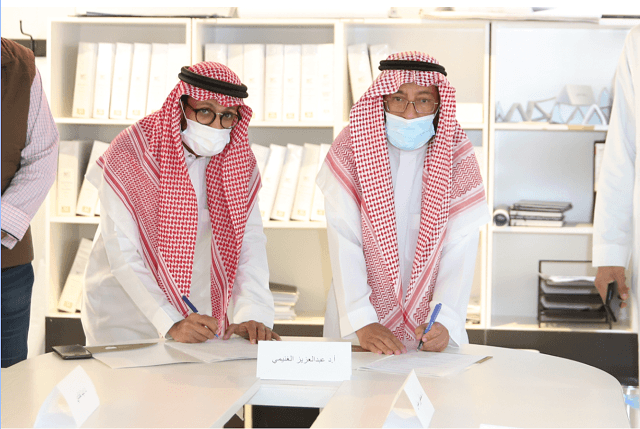 College of Architectural Engineering and Digital Design at Dar Al Uloom University signs with Extended Company, Expand, for planning events, conferences, and exhibitions at NAAB exhibition held in the College.
The agreement was signed by Prof. Dr. Abdulaziz Alghunaimi, the College Dean, and the executive director of Expand Company, Mohammed Alshaye.
The conference was attended by Dr. Mustafa Ramadan, Head of the Department of Architectural Engineering, Dr. Hussam Alsamti, Head of the department of Interior Design, and Dr. Inas Rahsed, Assistant Professor in the Department of Graphic Design.
The agreement clauses included mutual coordination of the creation of training and qualifying programs for students and College alumni according to training policed set for both parties. They also encompassed the employment of students who stand out and mutual supervision of some of the College students projects after the incorporation of the society's requirements and needs.
The agreement included coordination work that offers a career path for students of the College of Architectural Engineering and Digital Design. It also comprised a job offer with closed contract that includes the number of employment years offered and binds the alumnus commitment to its clauses.
The agreement stressed on the importance of mutual cooperation in the execution of programs and work for community service with mutual interest through lectures, workshops that target students of the three departments.