Deanship of Graduate Studies and Research Holds and Open Meeting for Graduate Studies Students.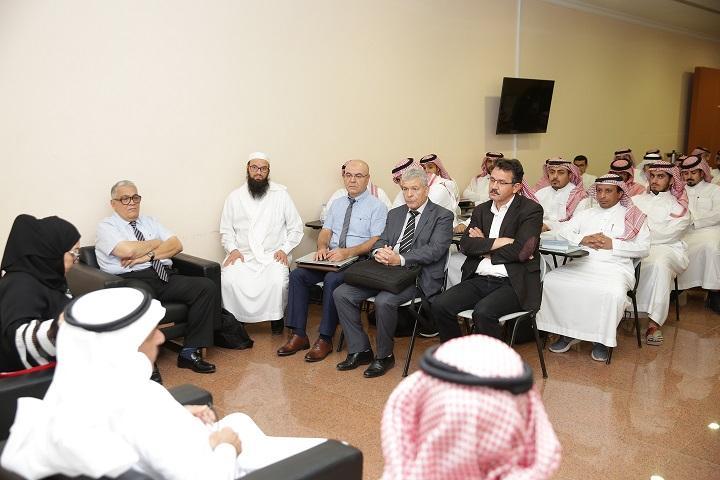 In collaboration with the Information Technology Department, , the Deanship of Graduate Studies and Research at Dar Al Uloom University held an open meeting with the master graduate students at the College of Business Administration
The meeting was attended By Prof. Bulquees Daghestani, Vice Dean of Graduate Studies and Research, Prof. Abdulrahman Al-Sultan, Dean of the College of Business administration, and Dr. Abdulaziz Al- Gaeed, Vice Dean of the college, in addition to a number of faculty members.
Prof. Daghestani started the meeting by welcoming the students, wishing them success in their study. She emphasized the importance of the students obtaining the university ID Card and complying with the university's rules and regulations.
Prof. Al-Sultan stressed the importance of taking advantage of the faculty's office hours, indicating that it is a student right. In his turn, Dr. Al-Gaeed welcomed the students, and explained that the study plans of the master programs have taken into consideration students' interests.
The attendees then received questions, suggestions and complains from the students. Prof. Bulquees assured that the University is keen on creating a favourable studying environment for the students.
Mr. Osama Abu Al Asal, Director of the IT Department at the university, presented a workshop about the university's electronic systems, including the Learning Management System (LMS) and the Student Information System (SIS).
Another open meeting will be held for the master students at the College of Law on Tuesday 17th September. It will be attended by Dr. Mufleh Al-Qahtani, Dean of the college and a number of faculty members.