The Board of Trustees of Dar Al Uloom Congratulates the University for Obtaining NAAB Accreditation and Graduating the Eighth Batch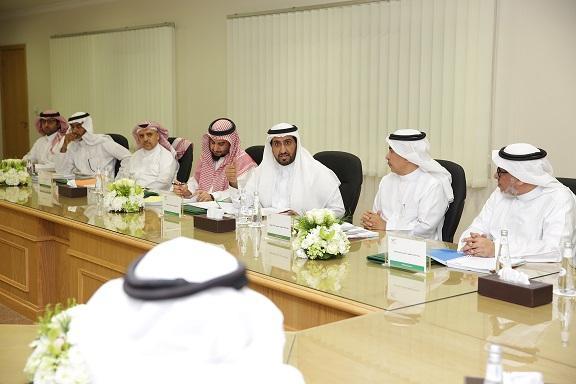 At its second meeting for the academic year 2018-2019
Board of Trustees of the , therdoccasion, on Tuesday April 23extraordinary an On University of Dar Al Uloom held the second meeting of the academic year 2018 – 2019. This meeting was accompanied with several celebrations and achievements. After His Excellency Mr. Abdulaziz bin Ali Al Tuwaijri welcomed the President of the Council and the members of the Board, the council exchanged the congratulations for the graduation ceremony of the eighth batch of 700 graduates of the University, under the patronage and honor of His Highness the Deputy Ruler of Riyadh.
The College of Architecture and Digital Design has also received the American equivalent of NAAB, to be the first Saudi private college awarded, to offer its graduates the opportunity to study in the United States without equations and allow better job opportunities. They also congratulated the College of Dentistry on the academic accreditation of the Saudi Board in three sections. The college is eligible for all potentials to train the Saudi Board candidates. The Board also exchanged the congratulations for signing a strategic partnership agreement with the University of Liverpool John Morris in the nursing program at the Faculty of Pharmacy and Applied Medical Sciences. Many other achievements were brought up, which are the fruits of the efforts of all university employees, under the supervision of the Board of Trustees.
His Excellency the Chairman of the Board of Trustees congratulated HE Dr. Ahmed Bin Salem Al Amri, for the Royal Trust on assigning him as the Director of Al- Imam Muhammad Bin Saud Islamic University. As a regular procedure, the Board approved the minutes of the first Board of Trustees' meeting for the academic year 2018-2019. The Board decided to nominate a number of faculty members in a number of specializations, whether existing or updated, then the Council proceeded to discuss the details of the semi-annual report of the University (Executive Report). They also discussed the master's plan for the Joint project management program between Business Administration College, and Architecture and Digital Design College to meet the business market needs and respond to the demand for the specialization. The board also discussed the study plan of the Nursing program in the Faculty of Pharmacy and Applied Medical Sciences, to contribute to the localization of the profession of nursing. Then they discussed the criteria for accepting new students in the Faculty of Medicine, especially those who graduated from high school five years ago, to sum up the discussion and the study to the estimated budget for the academic year 2019/2020.
At the end of its session, the Board adopted many resolutions related to the topics of the agenda, which are important for the students' interest, and to achieve the quality desired by the Kingdom in its future vision.