DAU signs Program Accreditation Agreement for Medicine & Surgery Program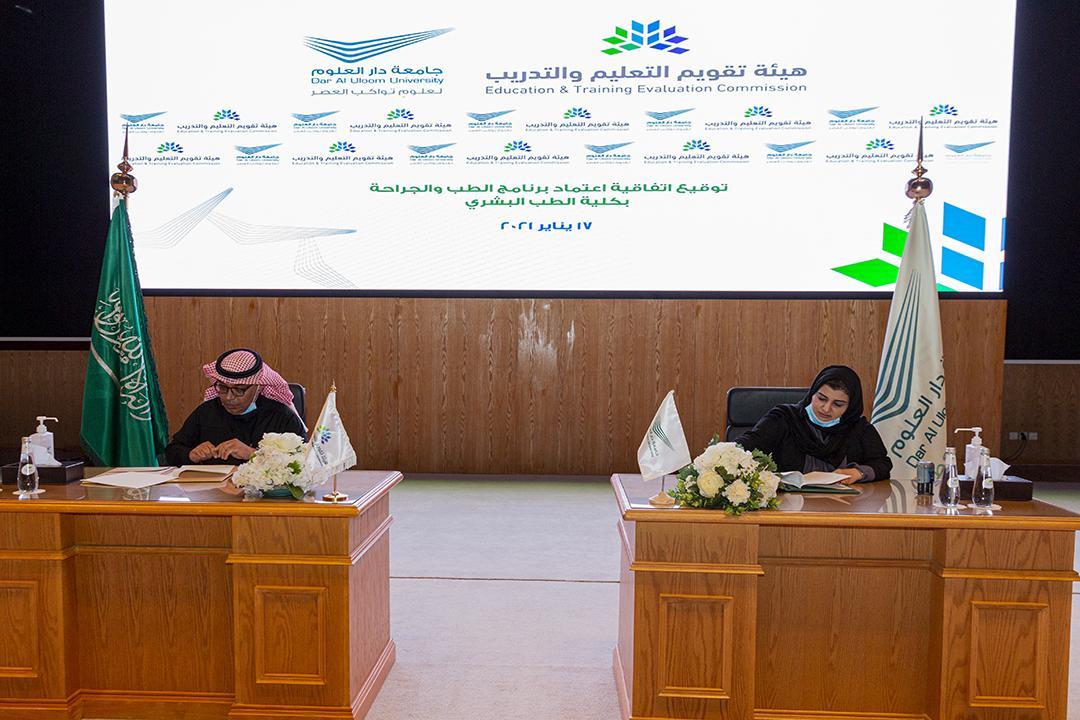 The University of Dar Al Uloom has recently signed a program accreditation agreement with the National Center for Academic Accreditation and Evaluation for the Medicine and Surgery Program. The Chief Executive Director of the Center was hosted at the University's Cultural Center in an atmosphere full of ambition and varied, high-end activities.
The activities began with an opening word stating that: ' We thank God for the bestowment of health and well-being upon our country and us. We have gathered here with the grace of God without fear or hardship despite the world-wide spread of disease and suffering'.
The Chief Executive Director of the National Center for Academic Accreditation and Evaluation, Dr. Suhail Bajammal, and his companions were welcomed at the meeting, which was honoured by the presence of His Excellency Mr. Nawwaf bin Abdul Aziz Al-Tuwaijri, Chief Executive Officer, His Excellency Prof. Khaled bin Abdul Rahman Al-Hamoudi, Rector of the university and Her Excellency Dr Ibtisam Al-Othman, Vice Rector for
Planning & Development. The College of Medicine was represented by Dean of the College, Professor Abdul Rahman Al Juma'ah, and the college's Vice Deans, who were all witnesses to this significant moment in the march of DAU's College of Medicine.
The Theatre's screen was lit with a visual display reviewing the accreditation stages that the university has already passed, followed by a word of praise by Dr. Ibtisam Al-Othman. This was followed by a video on the achievements made by the university in 2020 despite the numerous precautions imposed by the current circumstances. After that, His Excellency Dr. Suhail Bajamal, Executive Director of the Center, delivered an informative presentation about the academic accreditation process and latest related developments.
The event ended with the signing of the agreement followed by a tour of the facilities of the College of Medicine and the College of Dentistry at the university.
The university will continue its sure march until it achieves the highest levels of accreditation, thus keeping the job market wide open for its students