Dar Al-Uloom University Representative Earns Second Place in Makkah International Dental Conference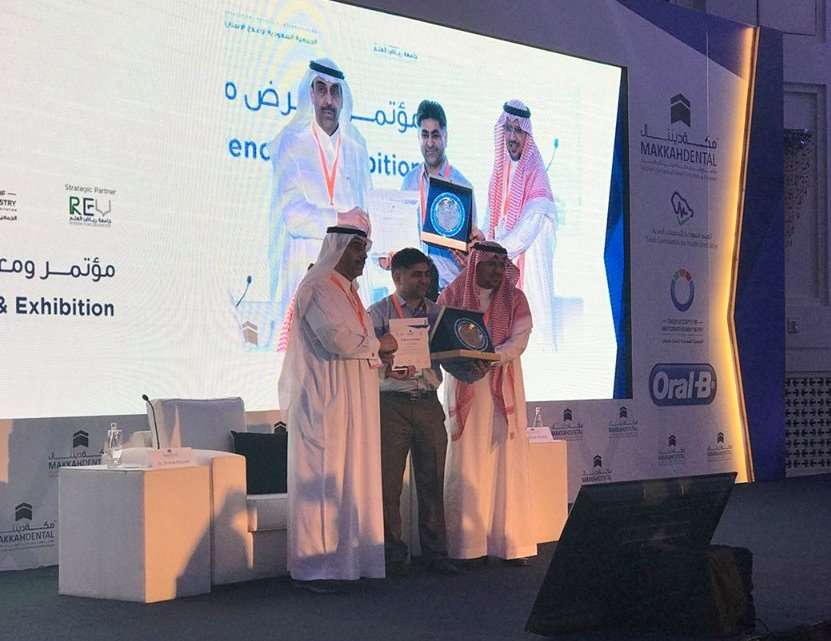 15th Makkah International Dental Conference and Exhibition was held at Hilton Convention Centre; Makkah from 27th to 29th of March 2018. This conference is held annually in Makkah in the vicinity of Holy Kaaba in collaboration with the Saudi Dental Society and Ministry of Health. The conference focuses on recent advancements in dentistry along with an exhibition for latest dental equipment.
The conference attracts a large number of participants from various Institutions especially freshly graduated dentists from various Universities. The conference is a unique blend of scientific updating and performing Umrah due to the close vicinity to the Holy Kaaba. 
Dr. Altaf H Shah, Associate Professor and Chairman Preventive Dental Sciences Department; College of Dentistry; Dar Al Uloom University secured a Second Position for Scientific Research Poster Competition held during the three day conference. Dr. Shah's research titled "Assessment of Preventive Dental Measures for Special Needs School Children" co-authored by Dr. Shabnam Gulzar (Paediatric Dentistry, College of Dentistry; Dar Al Uloom University) and Dr. Albandary AlJameel (Astt. Prof. Dental Public Health, College of Dentistry, King Saud University) was selected to be the second best research among 151 entries to the competition. The first prize went to a female participant from Umm Al-Qura University for a research based on Haj Pilgrims dental complaints and third prize was bagged by a male participant from Queen Mary University London for research based on Regenerative Dentistry.
The prizes were distributed by Prof. Abduallah AlShammery (Founder of Riyadh Elm University) and Dr. Meshari Faraj Alotaibi (President Makkah Dental Conference & Exhibition). While announcing the prizes Dr. Saleh AlGhabban (Consultant and member organizing committee) told the audience that the competition was tough and importance was given to community based research.