Dar Al Uloom Representative Wins Second Place at Riyadh's Dental Forum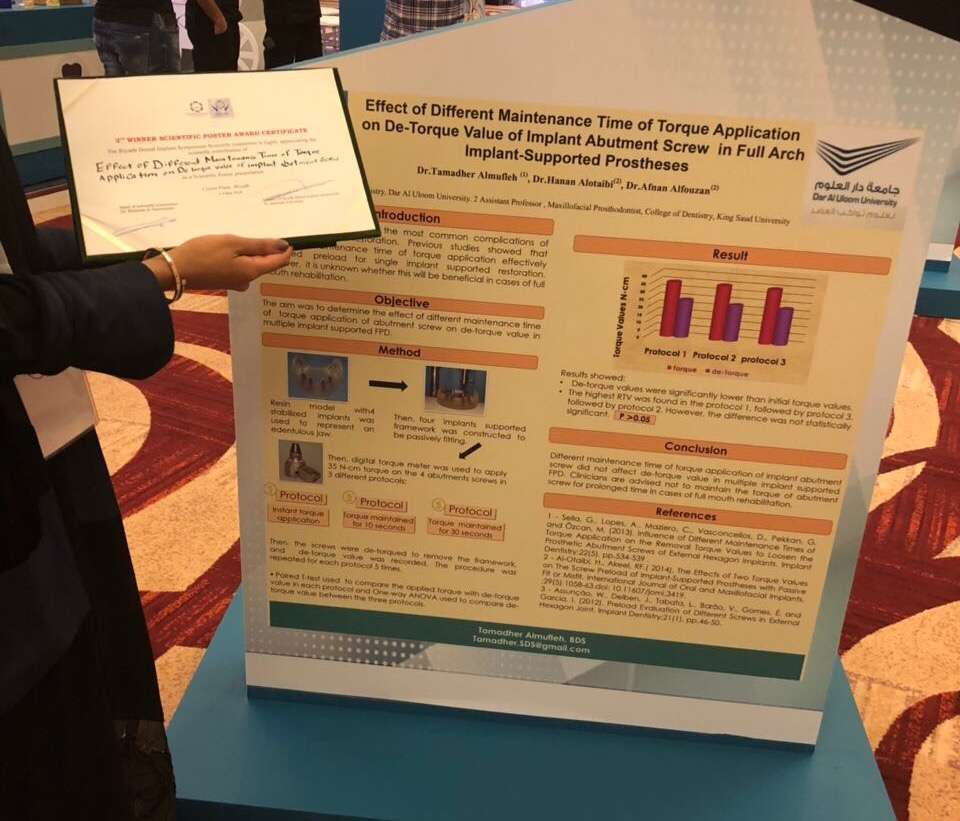 Dr. Tamadr Al-Mafleh, a faculty member at the College of Dentistry at Dar Al Uloom University won second place in the Research Poster Competition at the Riyadh's Dental Implant Symposium.  Representatives from different health fields in different Saudi universities participated in the symposium that was held at Crown Plaza.
Dr Al-Mafleh participated with a research poster entitled "The effect of time taken to fix a medical implant screw on the amount of force required to remove the screw in the full compensatory structure". The poster was  supervised by Dr. Hanan Al-Otaibi and Dr. Afnan Al-Fawzan.
The forum was attended by fixed and removable prosthodontists, specialists in gum disease and dental implant doctors.  A number of doctors spoke  during the form,  including  Dr. Denis Tarnow, Dr. Clinthes, Dr. Abdullah Al-Kareidis, Dr. Bishi Al-Qarni, Dr. Nabil Al-Ghazali, Dr. Marcio Santo and Dr. Mohammed Al-Muhaizah.
The Riyadh Dental Implant Symposium is dedicated to presenting the latest technologies in the field of dental implants and offering lectures by prominent speakers from around the world, in addition to presenting scientific research carried out by specialist in different health disciplines from various Saudi universities.