CADD Programs Accredited by Education & Training Evaluation Commission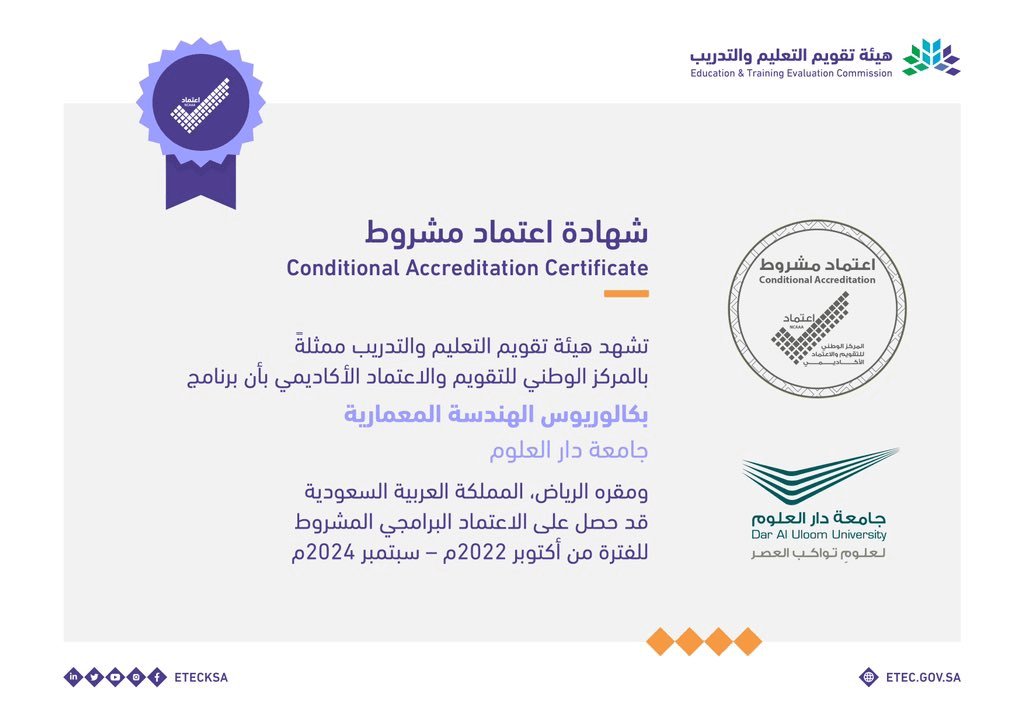 As part of the university's continuing efforts to obtain academic accreditation for all its programs, the three CADD programs, namely the Architecture Engineering, the Interior Design and the Digital Design programs have obtained conditional program accreditation by the Education & Training Evaluation Commission ETECKSA represented by the National Center for Academic Accreditation and Assessment. The new attained accreditation will contribute to improving the quality of its outcomes and accelerate readiness for the job market, and is considered a further step towards achieving the goals of the Kingdom's Vision 2030
On this occasion, Prof. Abdulaziz Al-Ghunaimi, Dean of the College of Architecture & Digital Design, extends his appreciation and thanks to leaders of the university, headed by Chairman of the Board of Trustees, Mr. Abdulaziz bin Ali Al-Tuwaijri, Rector of the University, Prof. Khaled bin Abdul Rahman Al-Hamoudi, and the university's Executive Chief Officer, Mr. Nawaf bin Abdulaziz Al-Tuwaijri, for the great support they have provided to CADD in its endeavor to obtain the accreditation, support that has had a great impact on facilitating the achievement of this task. Prof. Al-Ghunaimi prayed to the Almighty God that such achievements continue at all levels and in all fields and specializations.
The obtained accreditation is a testimony that the three CADD programs have reached highest standards in providing quality content, teaching and outcomes, and in providing high-end
equipment throughout the college's facilities, including its laboratories and studios, in addition to enrolling highly experienced and competent faculty members. Thanks and appreciation are extended to all staff at the CADD college for the great efforts they have exerted and for the excellence they have demonstrated, which have contributed to enhancing the college's outcomes and lead to its obtaining this important, qualitative national accreditation.