Strategic cooperation agreement signed between DAU & General Electric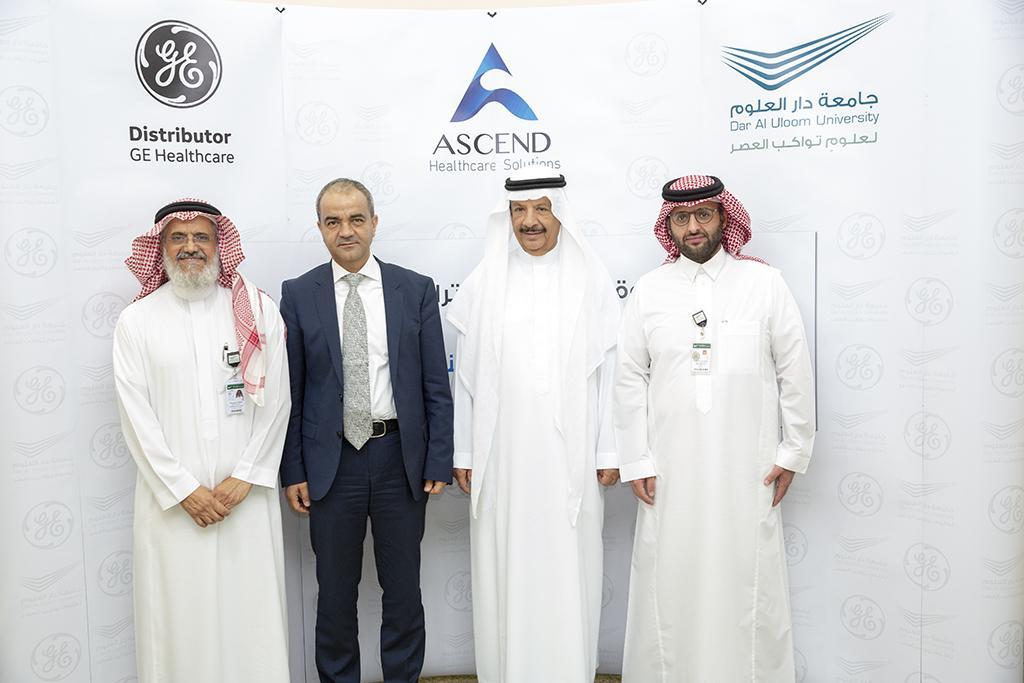 Represented by its Chief Executive Officer, Mr. Nawaf Bin Abdulaziz Al Twaijri, Dar AL Uloom University has signed a cooperation agreement with ASCEND Advanced Health Solutions Company, an authorized distributer of General Electric Appliances, represented by its CEO, Eng. Ali Saleh.
The agreement includes a number of terms that serve the interests of both parties and support the educational process at the university. These include sharing best global practices in the latest medical technological developments and digital trends. The agreement also aims at supporting Dar Al Uloom University and its university hospitals to improve performance through the sharing of best practices in operating theaters, emergency departments, intensive neonatal care, and the optimal management of patient beds. Moreover, collaboration will be enhanced with DAU on opportunities to improve patients' experience in relation to suite designs, digital tools and the interrelated care paths. The agreement also entails cooperation in the research fields of pathology and endoscopy.
Through this strategic partnership, General Electric will also provide diagnostic medical equipment and tools and the university's other requirements. It will also provide the university's digital library with a number of TipEd courses on various topics related to biomedical engineering, nursing, diagnostic imaging and ultrasound systems.
The signing of the agreement was attended by Rector of the university HE Prof. Dr. Khalid bin Abdul Rahman Al-Hamoudi, Prof. Fahad Al-Zamil, Vice Rector for Health Specialties, Dr. Sami Al-Nassar, Dean of the College of Medicine, Prof. Hisham Al-Moallem, Dean of the College of Dentistry, and Dr. Ali Al-Qurban, Vice-Dean of the College of Dentistry. For the ASCEND company, the signing was attended by Mr. Amin Al Maslamani, General Manager of Finance and Mr. Walid Takli, General Manager of Partnerships and Alliances.
Following the signing ceremony, representatives of both sides undertook a field tour that included the facilities of the College of Medicine, the Skills Laboratory and the facilities of the College of Architecture and Digital Design including studios, laboratories and halls. The field visit also included the university's hospitals and their clinics and laboratories.
This cooperation agrement stems from Dar Al Uloom University's commitment to prepare highly qualified students who are capable of joining the working life with high self-confidence and meet the social, cultural and economic needs of the community.