Deputy Prince of Riyadh Sponsors Graduation Ceremony of DAU Seventh Batch of Students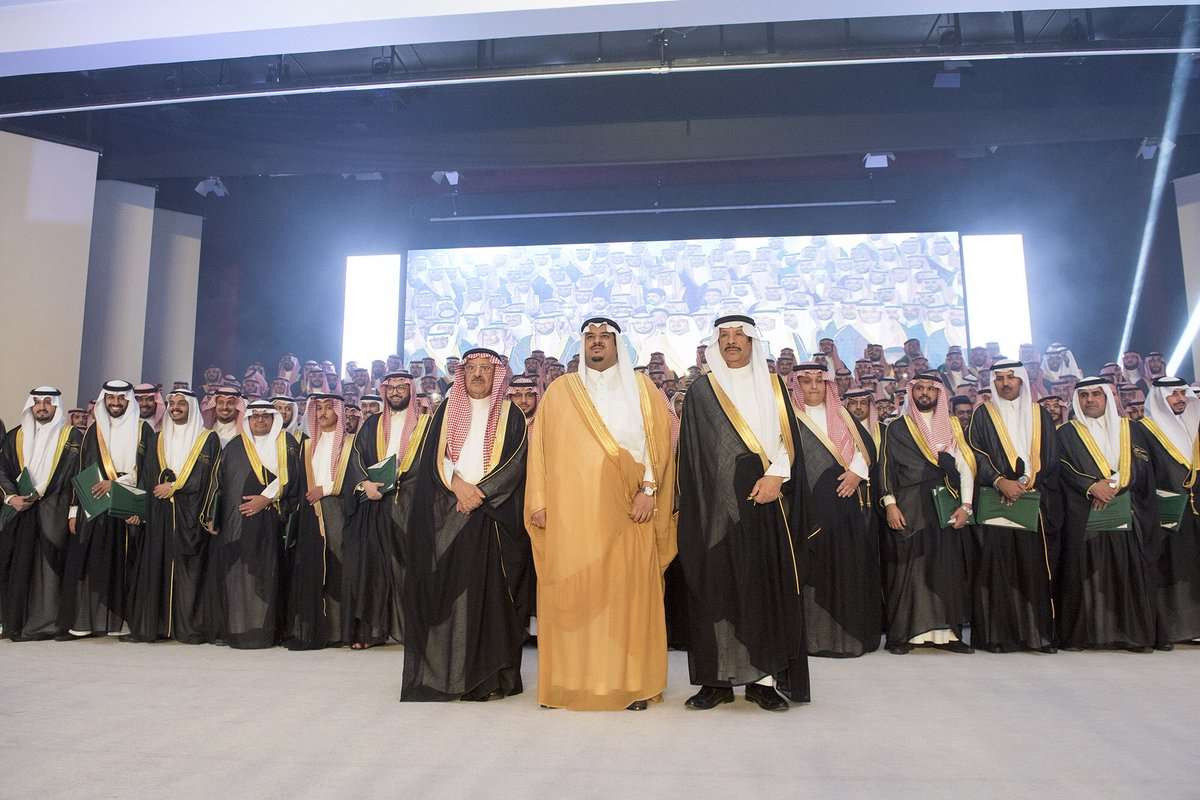 His Royal Highness Prince Mohammed bin Abdul Rahman bin Abdulaziz, Deputy Governor of Riyadh, on Wednesday (April 11th) patronized the graduation ceremony of the seventh batch of students in the Cultural Centre at Dar Al Uloom University.
He was welcomed by His Excellency Mr. Abdulaziz bin Ali Al Tuwaijri, Chairman of the Board of Trustees, HE Dr. Khalid bin Abdul Rahman Al-Hamoudi, Rector of the university, college deans and a number of students' parents.
The ceremony began with reading verses from the Holy Quran. His Excellency the Rector then delivered his speech, in which he thanked HRH Prince Mohammed bin Abdulrahman bin Abdulaziz for patronizing the event and expressing his pleasure with students' graduation.
"We are delighted to meet this evening to celebrate the graduation of the seventh batch of 475 DAU students, including 160 Master graduates and 315 graduate students from the colleges of Law, Business and Engineering, Architecture & digital design. He expressed gratitude towards  the role of the sensible leadership for its interest in education.
Mr. Munir Khayat, Chief Executive Officer of Human Resources Group at Saudi Fransi Bank, delivered the sponsor's keynote speech to the event stating that the BSF sponsorship of the event comes as part of the banks' role in supporting the Kingdom's vision for the year 2030.
The graduate Ibrahim Al-Qahtani gave a speech on behalf of the graduates, expressing their joy at graduation, and expressing his appreciation for the support they received from the university throughout their years of study, thanking His Royal Highness Prince Mohammed bin Abdul Rahman for his honorable sponsorship of the ceremony.
The ceremony was concluded with the students' march, after which  the Deputy Prince, HE the Chairman of the Board of Trustees, and the President of the University went up to the stage to honor outstanding students and sponsors of the ceremony. His Highness then left the ceremony with the same kind hospitality and honor he received upon his arrival.
On Thursday,April 12th, Princess Noura Bint Mohammed Bin Saud, wife of Prince of Riyadh, patronized the graduation ceremony of the seventh batch of female students of Dar Al Uloom University at the university's Cultural Center.
Princess Noura Bint Mohammed confirmed that Saudi universities, including Dar Al Uloom University, are seeking to raise the academic level of faculty and students by bringing to the labor market high-quality graduates who are able to move forward with Vision 2030.
For her part, Dr. Nouf Al-Ajmi, manager of female students, said that since its establishment, the University of Dar Al-Uloom has sought to be a supporter to this country by providing cadres with academic qualifications that contribute to its development and service, adding that  "the University has set up the headquarters of the College of Architecture and Digital Design in accordance with the latest international standards, the only one of its kind in the Middle East, as well as the inauguration of the College of Dentistry with three main sections: Department of Surgical and Diagnostic Sciences, Department of Orthodontics as well as Department of Preventive Dental Sciences.
At the end of the ceremony, Princess Noura honored the distinctive students and handed over the certificates to graduates, recommending that they make more efforts in their professional lives and wishing them success