Department of Architectural Engineering signs Cooperation Agreement with ITOR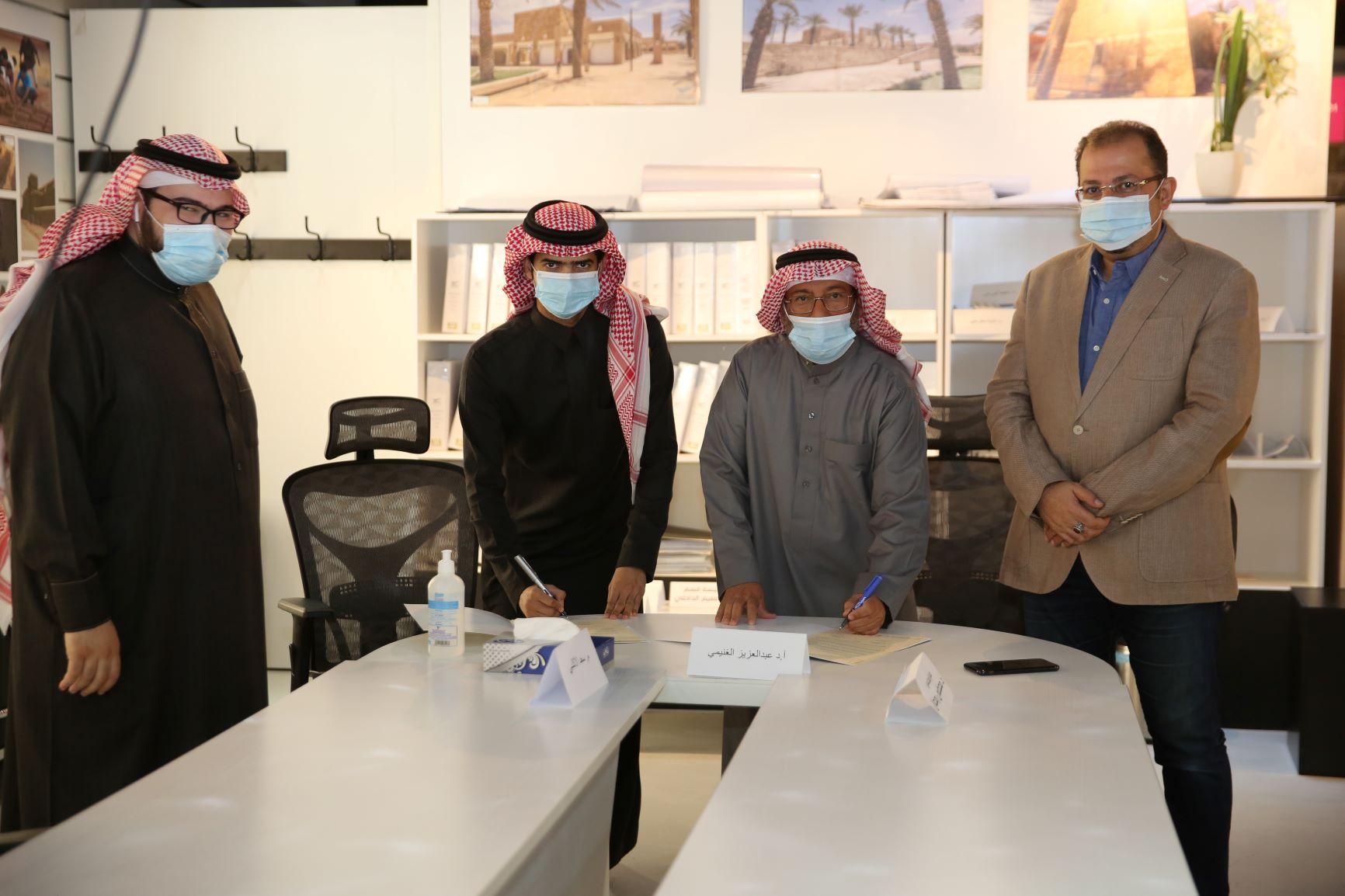 Stemming from its interest in maintaining continuous communication with working community institutions, at the start of a meeting to sign a cooperation agreement, His Excellency , Prof. Dr. Abdulaziz Al-Ghunaimi, Dean of the College of Architecture and Digital Design, and Dr. Mustafa Ramadan, Head of the Department of Architectural Engineering, have welcomed Eng. Saad Al-Aklabi, CEO of the ITOR Company.
The two parties reviewed the proposed ideas and training programs that the company will provide to students of the College of Architecture, through which their talents would be refined and their skills enhanced. The two parties also reviewed future cooperation in holding events and participating in exhibitions, conferences and specialized training workshops, in addition to adding a technical dimension and the Internet of Things to the information and skills acquired by students, which would open up for them ample opportunities and give them priorities in the job market, in addition to contributing to developing their skills in designing smart buildings and harnessing the highest levels of technology in their architectural projects, thus reflecting the extent to which their acquired knowledge and skills keep up with the needs of the labor market.
The ITOR's CEO, Eng. Saad Al-Aklabi explained all the services and programs provided by his company, through which ideas are converted into concrete and realistic models that can be developed and presented to be bankable and productive projects. He also discussed the possibility of creating support and motivation programs for talented students in order to develop their ideas into real products on the ground, through the sharing of expertise between of the two parties and exploiting it for the benefit of students. His Excellency, the Dean of the College in turn emphasized that our sons and daughters in the Architectural Engineering Department would have special privileges, which will benefit them, and support their constructive projects and ideas. Dr. Mustafa Ramadan, Head of the Architectural Engineering Department added that students at the department have beautiful and creative project ideas that would see the light, adding that the department is actively striving to strengthen its strategic partnerships with the labor market, and with the most prominent and important bodies that are distinguished by a work environment that stimulates creativity and innovation and are considered among the pioneering entities in the field of architecture or have a close relationship with the specialization.
The meeting ended with the signing of the agreement and the call to submit an action plan for the second semester, through which desired goals will be achieved, God willing.