DAU's Board of Trustees discusses admission & study plans during Second meeting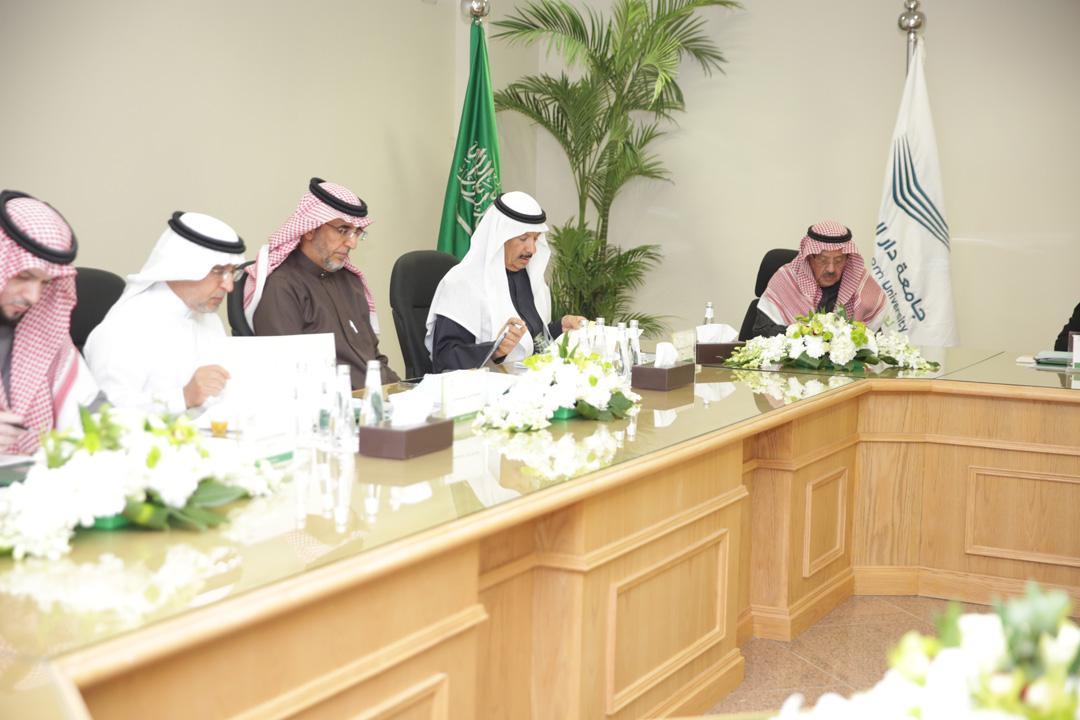 In an atmosphere of enthusiasm accompanying the permanent development at the university, the Board of Trustees at Dar Al Uloom University held its second meeting for the academic year 2019 – 2020. This meeting has coincided with the introduction of a number of new academic programs that signify the university's continuous progress and endeavor to provide students with whatever improvements that can serve their practical life. After His Excellency Mr. Abdulaziz bin Ali Al-Tuwaijri, Chairman of the Board of Trustees, welcomed their Excellency the Board members, and approved the minutes of the previous meeting, the Council began the session by discussing the university's semi-annual report, which documented many strengths in various fields in all colleges and departments. The report addressed the achievements that were fulfilled at the university during the first half of the
current academic year as well as updates on programs and decisions that serve the academic process, especially those in the context of the university's preparations for program accreditation and the accompanying hard work going on at all levels in the halls of colleges.
The Board members then discussed a number of issues including the rationale for nominating a number of faculty members in a number of disciplines, both existing or newly created, the amendment of the name of the two master programs in the College of Law and the title of their degrees, and the terms and conditions for admission and transfer in undergraduate programs at the university. The Board also discussed the admission of undergraduate students at the colleges of Medicine and Dentistry, and the conditions for admission to the Bachelor's Program in Nursing for holders of a nursing diploma in addition to the study plan for the Respiratory Therapy Program at the College of Pharmacy and Applied Medical Sciences. The Board also discussed the study plan of the corporate master program in Project Management between the College of Business Administration and the College of Architecture and Digital Design designed to meet the job market needs and in response to the demand for specialization.
At the end of the meeting, the Board took many decisions related to the agenda topics, which it considered important in achieving the interest of both male and female students and in achieving the desired quality in education that the Kingdom seeks to develop as per its future vision.