Al-Olayan is a guest at Dar Al-Uloom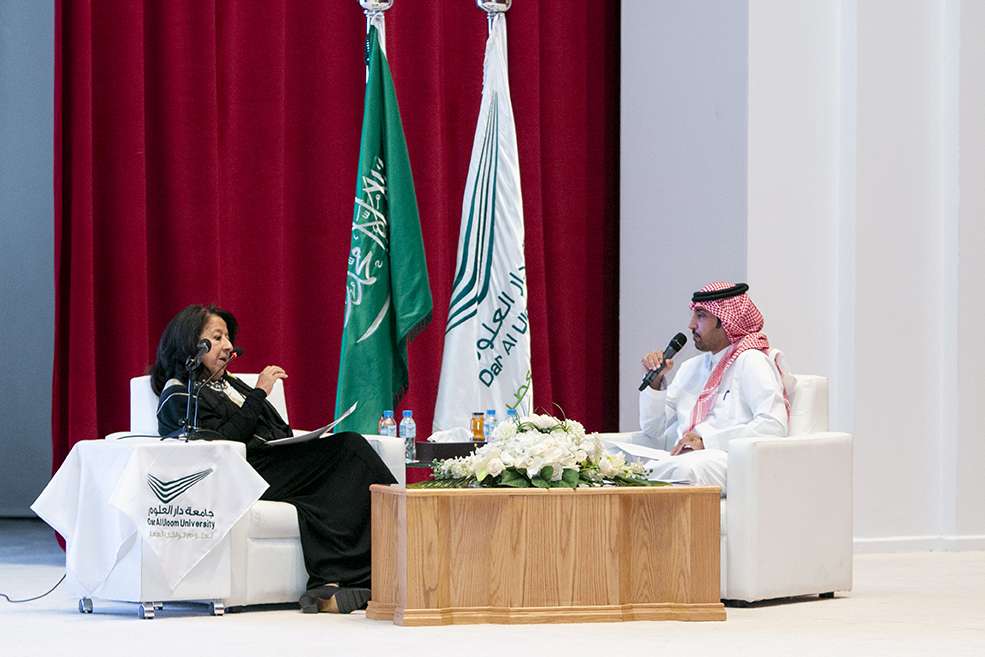 On Thursday, November 1st, Dar Al-Uloom University has the honor of the presence of Mrs. Lubna Bint Sulaiman Al-Olayan, Executive Director of Al Olayan Group and Vice Chairman of Alawwal Bank,
In an event organized by the Students Affairs.
Prof. Fahad Al Zamil, Vice-Dean for Health Specialties, delivered a speech welcoming the guest and expressing his appreciation for her participation in the event.
Mrs. Al-Olayan graced the occasion by expressing her pleasure of being the first guest of the program. She shared her successful life with the attendees, emphasizing on the importance of overcoming the various obstacles and taking advantage of mistakes in life and learning from them.
The Saudi Businesswoman talked about some of the difficulties she had faced in her career. She also talked about the most important skills required by the labor market, such as dealing with modern technology and the ability of speaking both Arabic and foreign languages.
Al-Olayan shared some the advice that she learned from her father, Sulaiman Al-Olayan, such as a person should work more than he speaks, and he should think carefully before providing any answers, and that we must learn from everyone around us, no matter how young or old they are.
Lubna Al-Olayan said that she does not differentiate between women and men in work. Al-Olayan responded to the questions posed by the students and provided them with practical advice for their after graduation.
When she was asked about "SABB Alawwal bank", Al-Olayan said that the name was not decided yet, and she likes this name. Prof. Al-Zamil honored the guest and gave her commemorative shield from Dar Al-Uloom University.