Dar Al Uloom Dentistry Holds An Aesthetic Suturing Techniques Workshop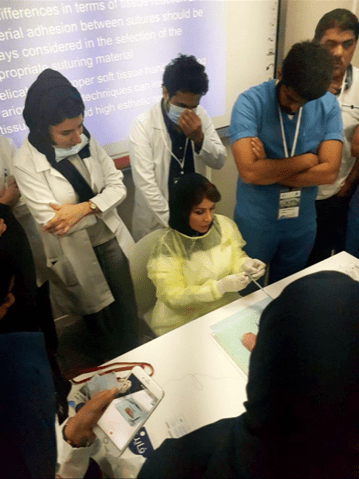 The College of Dentistry at Dar Al-Uloom University organized a workshop on aesthetic surgical suturing techniques and materials. The workshop was presented by Dr. Arwa Al Sayed, Director of the Medical Fellowship and Continuing Education Program at the College.
Around thirty dentists participated in the workshop, including specialists in Periodontology, oral and maxillofacial surgery, general dentistry, Residents of the Saudi Board of Periodontology and levels 3 & 4 at the College of Dentistry.
Doctors were trained on the latest methods of aesthetic suturing techniques following surgery of the gingiva and the surrounding periodontal tissues to prevent gingival recession after periodontal surgeries that may lead to the distortion of the appearance of gingival tissues and teeth.
Dr. Arwa explained the basic differences between several types of surgical thread, the use of each type and the time required for healing of gingival surgery. Participating doctors received training on these with high professionalism.
The participants expressed their admiration for the scientific content, stressing the importance of these courses. In turn Dr. Arwa promised to provide other workshops at a more advanced surgical level.