International Chartered financial analyst challenge (CFA Challenge)

Finance and Banking invites his students to participate in the CFA challenges that will be held in September 2021. The CFA Institute Research Challenge is an annual global competition that provides university students with hands-on mentoring and intensive training in financial analysis and professional ethics. Each student will be tested on their analytic, valuation, report writing, and presentation skills. They gain real-world experience as they assume the role of a research analyst.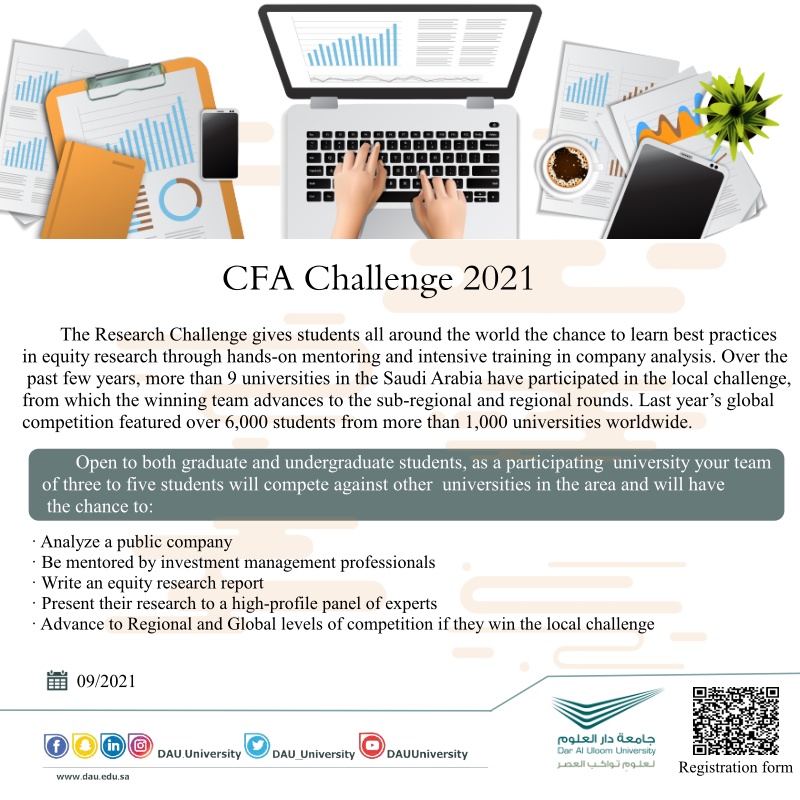 The Research Challenge gives students all around the world the chance to learn best practices in equity research through hands-on mentoring and intensive training in company analysis. Over the past few years, more than 9 universities in the Saudi Arabia have participated in the local challenge, from which the winning team advances to the sub-regional and regional rounds. Last year's global competition featured over 6,000 students from more than 1,000 universities worldwide.
 Open to both graduate and undergraduate students, as a participating university your team of three to five students will compete against other universities in the area and will have the chance to: 
·      Analyze a public company
·      Be mentored by investment management professionals
·      Write an equity research report
·      Present their research to a high-profile panel of experts
·      Advance to Regional and Global levels of competition if they win the local challenge