Dar Al Uloom participates in the meeting for Universities General Assembly for Sports Federation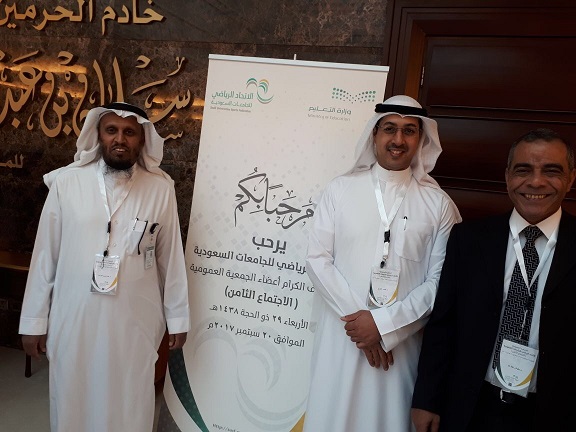 Dar Al Uloom participated in the eighth meeting for the General Assembly for Sports federation for Saudi Universities held on Wednesday, 20 September at the Ministry of Education headquarters in Riyadh. This was attended by General Assembly members from Saudi university and college officials.
The Federation's Secretary, Dr Abullah Al-Buqami, reviewed the accomplishments achieved by the Sports Federation through the past University year. This was through effective cooperation with Saudi universities and colleges.
His Excellence Deputy Minister of Education, Dr AbdulRahman Al-Asimi, gave an address to university officials to implement sports activities within university campuses, and to have effective participation in competitions arranged by the Saudi Universities Sports Federation, and cooperate and share in the success of such activities.
A workshop was held to research the obstacles and challenges facing last year's members, in addition to the ways to improve the level of sports for Saudi university students. The results for previous seasons for competitions of the Federation were reviewed.
Dar Al Uloom University was represented by Dr AbdulRahman Al-Azman, Dean of Registration and Academic Affairs, Dr Nasir Al-Inizi, Vice Dean for Student Affairs, and Mr Sulaiman Atallah.