Medicine at Dar Al Uloom organizes a Breast Cancer Awareness Campaign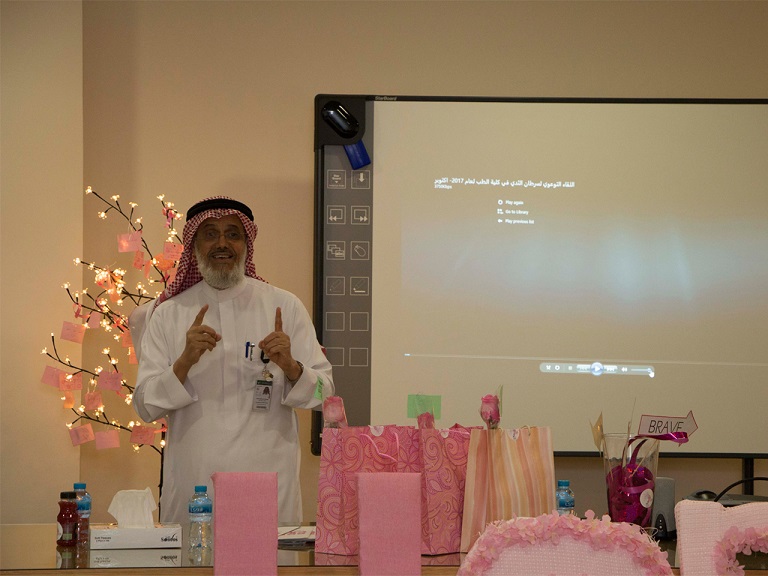 The College of Medicine at Dar Al Uloom, in cooperation with Zahrah Society for Breast Cancer, and King Abdullah Centre for Early Detection, carried out an awareness campaign with the moto 'THINK PINK' last Week, 25 October. This was performed concurrently with the International Breast Cancer Awareness Month.
The campaign, which was held at the University campus, included various student activities. These aimed at the awareness of the importance of early detection, and explanation of the causes, symptoms and ways of protection against breast cancer. Some gifts and awareness leaflets explaining the clinical examination of breast cancer were distributed.
The campaign, which was carried out among the student activities program, witnessed great cooperation with the female students and staff of the university, who attended the set up activities. These included the roses display, clinical stations to practice self-examination, and watching a short film about breast cancer awareness.
Dr Tahani Al-Tamimi, Vice-Dean of the College of Medicine for the female section of the university, stated that the aim of this campaign is to shed light on the importance of protection against breast cancer, and early detection. This is in the light of statistics in the Kingdom of Saud Arabia indicating that breast cancer is the most prevalent among women.
Dr Sami Al-Nassar, Dean of the College of Medicine, indicated the importance of cooperation between doctors, related government parties in the health sector, community institutions, private sector, and charity organisations, to participate in spreading the awareness so as to limit the affliction with this disease and identify it early.
Professor Dr Fahad Al-Zamil, University Vice-Dean of the Health Colleges, encouraged from his side the male and female students to participate in student activities, emphasizing the importance of this role in developing society in light of the Vision, Mission and Goals of Dar Al Uloom University.